Covenant Eyes is the standard for Internet integrity with accountability through monitoring. The software program is designed to hold people accountable when using the Internet. Safeguard your Internet world from the dangers, risks, and liabilities of Internet pornography.
Covenant Eyes is easy to use.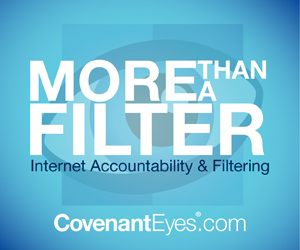 Once installed, Covenant Eyes monitors websites your computer visits. Whenever Internet access is attempted, you will be asked to log in (or you can configure it to log in automatically). Once logged in, your Internet activity will be monitored by our servers and periodically emailed in a report to the Accountability Partner(s) you choose in the Signup Procedure. The information is scored specifically for pornography and presented in an easy-to-read Accountability Report, but the entire history of the websites visited is recorded and available. Internet access is never blocked unless your computer is not correctly logged in to the Covenant Eyes system. Safety feature—this means that you can block others from accessing the Internet on your computer when you are logged out.
Covenant Eyes is effective.
Covenant Eyes benefits anyone, of any age, in any life circumstance. It is great for families, parents, teenagers, college students, pastors, church staff, businesses, counselors, psychologists, and anyone wanting to guard against the temptations of the Internet. Covenant Eyes is a valuable tool that promotes individual accountability and integrity when using the Internet. Covenant Eyes is the most effective preventative tool, because as we know, Internet addictions are easier to prevent than they are to overcome. However, accountability is a major key to successful recovery for those who have an existing struggle. Weekly, bi-weekly, or monthly, a list of sites visited is sent to one or two Accountability Partners, selected by you when you sign up for the Covenant Eyes Internet Accountability program. This list is sent by e-mail.
Covenant Eyes Accountability software can also be combined with Covenant Eyes Filter software to provide the ultimate in protection and accountability on the Internet. The filter is available to both PC and Mac computers!
Covenant Eyes is inexpensive.
All of the benefits of Covenant Eyes are available for pennies a day. Group discounts are available.
Establishing an account using promotion code: firststone gives you one free month of accountability!